Equal Experts UK Ltd is committed to achieving net zero carbon emissions by 2035.
Baseline Emissions
We calculate our greenhouse gas emissions from are a basline of 2020, which is when we first reported on energy use in our annual report. These are our emissions produced in the past and before the introduction of any strategies to reduce them. These baseline emissions are the reference point against which future emissions and any plans to reduce them can be measured.
Baseline Year: 2020
Additional Details relating to the Baseline Emissions calculations.

This was our first reporting period as we did not capture this data before the SECR reporting requirements were mandatory in Annual Returns.

Scope 1 – we do not own any vehicles

Scope 2 – offices use for rented and services offices only

Scope 3 – we did not measure in this year

Baseline year emissions:
EMISSIONS
TOTAL (tCO2e)
Scope 1
0
Scope 2
34.2
Scope 3
N/A
Total Emissions
34.2 tonnes
Current Year Emissions
Reporting Year: 2021
EMISSIONS
TOTAL (tCO2e)
Scope 1
0
Scope 2
5.8
Scope 3
N/A
Total Emissions
5.8
Emissions reduction targets
We do not have previous carbon reduction targets, as 2021 is our first year of assessment. In order to continue our progress to achieving Net Zero, we have adopted the following carbon reduction targets.
We project that our carbon emissions will decrease over the next five years to 16 tCO2e by 2026. This is a reduction of 50% from the baseline
Progress has been successful in the previous 12 months, but we recognise that this has been largely due to forced reduction in travel and home working. We anticipate that as work patterns return to more pre-pandemic levels our carbon footprint will increase compared to 2021 (see Figure 1 below).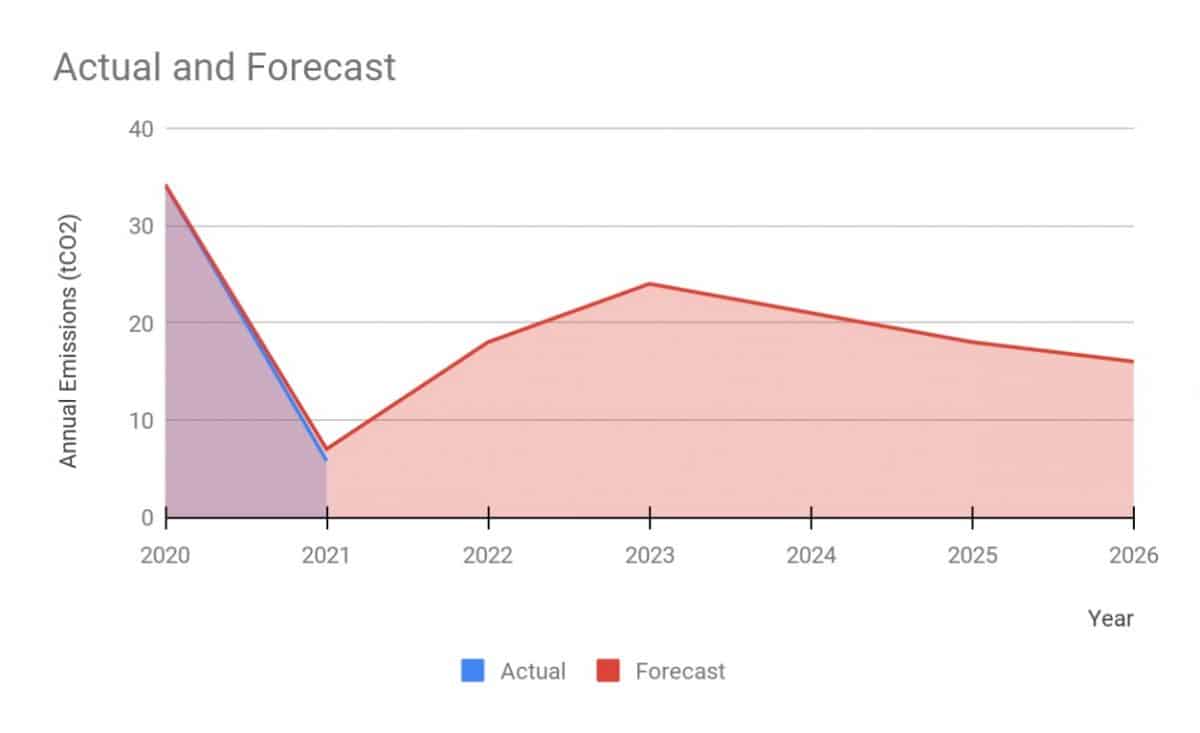 Figure 1: Forecast vs Actual Annual Emissions for Carbon Reduction Plan 2021
Emssion Reduction Projects
Completed Carbon Reduction Initiatives
The following environmental management measures and projects have been completed or implemented since the 2020 baseline. The carbon emission reduction achieved by these schemes equate to 28.4 tCO2e, a 83% reduction against the 2020 baseline and the measures will be in effect when performing the contract
Used the rise of remote working to close permanent offices in Manchester, Bristol and Brighton and moved to more flexible co-working spaces.

Consolidated suppliers for merchandise to use a single supplier with strong focus on providing sustainable and environmentally suitable goods, particularly clothing. Also moved to finding suppliers within each country to avoid shipping activities.
However, we would stress that much of this reduction has been the result of home working due to the pandemic and not a sustainable reduction. Our future plans are aimed for this more sustainable plans
From 2022 we expect to implement further measures, such as:
Scope 2
Change our financial policies to encourage travel by train and electric vehicles, reduce flights where possible and then offset flight emissions, support local travel and improve remote collaboration tools, such as video conferencing.

Support our employees' to improve their home working spaces for energy saving through insulation, power efficiency including encouraging renewable energy sources.
Scope 3
Consolidate offices in the UK to only use providers with strong sustainable facilities

Working with Sedex and our subcontractors to ensure they are also consideration carbon usage

We work on the cloud technology provided Amazon, Google and Microsoft, and will collaborate with them on reducing energy on our large scale customers
Board Approval
This Carbon Reduction Plan is made in the UK in accordance with PPN 06/21 and associated guidance and reporting standards for Carbon Reduction Plans. Emissions have been reported and recorded in accordance with the published reporting standard for Carbon Reduction Plans and the GHG Reporting Protocol corporate standard and uses the appropriate Government emission conversion factors for greenhouse gas company reporting . Scope 1 and Scope 2 emissions have been reported in accordance with SECR requirements, and the required subset of Scope 3 emissions have been reported in accordance with the published reporting standard for Carbon Reduction Plans and the Corporate Value Chain (Scope 3) Standard.
This Carbon Reduction Plan statement is reviewed annually. It has been approved by the Board of Equal Experts who last reviewed it on 15th November 2021.
Sam McGregor – Chief Operating Officer